Yellen night……
Remember this is a political show, more than a market briefing.
Central banks are impotent – its like penicillin too little reality for too long have made the "bacteria's" resistant.
Yellen will represent the full FOMC – not herself this p.m – important for her to balance the full board views.
My conclusion:
She will be trying to balance job growth w. financial stress, which of course is impossible. Even though she does deliver very dovish speech (which I don't expect) then the market may ignore her. The risk is market sells of an retest 1804-00 in S&P-500 as the central banks spot in the limelight is about to turn to dark.
The investor needs to answer this question: "Is this the end of the debt cycle or a correction before the final leg of pretend-and-extend" –
The odds are that central banks are running out of time and that politicians neither will or can step up the fiscal support (mainly infrastructure)… The world has lost its two greatest growth engines: The US and China – both are 1/3 down on their potential growth, while debt levels remains high – something got to give.. which is it?
Testimony and time schedule
Job market
Jobless claims has started rising (slower growth…..)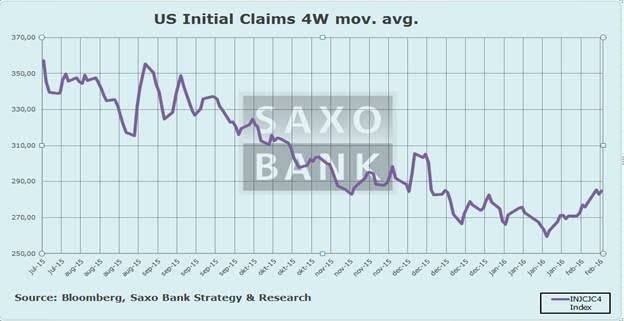 Expected FED moves…….
Reuters:
" Federal Reserve Chair Janet Yellen will defend the U.S. central bank's first rate hike in a decade and likely insist that further rises this year remain on track, albeit at a slower pace, when she addresses Congress on Wednesday"
"Some of the top presidential candidates, including Republican Senator Ted Cruz and Democratic Senator Bernie Sanders, are calling for major reforms to the Fed.
All of that could complicate things for Yellen as she tries to keep alive the prospect of further rate rises even as she acknowledges the threat posed by a slowing global economy"
Wall Street Journal :  5 things to watch in Janet Yellen's Congressional Testimony (my summary – full link here)
1.)    International conditions and volatility and how it could lead to increase chance of recession in the US
2.)    Back in December Fed penciled in four quarter point rate increases in 2016. A lot has happened since December, but job market may have Yellen standing the ground on hike cycle & indicating "live data" watching
3.)    Inflation : Core vs. Headlines. Headline weaker on energy and slower growth, core higher…. Where does Yellen put the focus?
4.)    Rules and regulations: Expect Senators to lean into Yellen here – Fed is not popular with politicians either!
5.)    Watch the fine print in the official document: Monetary Policy Report. The document she is presenting in Congress
FT – Currency market is braced for Janet Yellen's Congressional testimony
"The unease in the market at the moment is that with economic stimulus having been delivered globally and interest rates already low, there is not much that policymakers can do to address the current mix of deflation risks, weak equities and weak global exports."
Neil Mellor, FX strategist at BNY Mellon, said even this early into the year market turmoil and its likely impact on the Fed's rates normalisation strategy meant the two-day testimony had "all the potential for a seminal moment in 2016".
Gr8 FT service – what to expect from Yellen testimony:
Morgan Stanley:
Markets have priced a 32% probability of the Fed cutting rates by September. We have little doubt the Fed wants to sound dovish, but we doubt that it can 'jump ahead of the curve' at this stage. Hence, a Fed-driven risk rally may not last long.
Soc. Gen:
But the unemployment rate's down, and wage growth is trending higher. So the Fed is data-watching and waiting for calmer days before tightening. How do you make that sound reassuring to nervous markets, in particular ones best by concern that central bankers are now largely impotent (as per the BOJs failure to weaken the yen)?
Barclays:
We expect Chair Yellen to note that the committee must judge, on the one hand, whether recent developments in financial markets are an indicator of a nascent downturn in US activity not yet apparent in macroeconomic data, or, on the other hand, whether financial markets may be overreacting to developments in China and the temporary forces holding down Q4 growth. We do not expect a strong signal on the likelihood of a March move, but we do look to her testimony and accompanying forecast material to shed light on the benchmarks to be used to make the decision in March.
BNP Paribas:
We do not expect Fed Chair Yellen's testimony to be particularly helpful for the dollar today. While the Chair will likely attempt to maintain some leeway to continue tightening policy in March, she will also need to acknowledge the recent tightening in financial conditions and mixed data, providing markets with little impulse to reconsider Fed pricing. Moreover, even if Chair Yellen does sound more hawkish than we expect, it is appears unlikely that the risk environment would recover.